The frustrating itch of Eczema!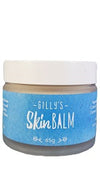 Born with Eczema, I spent many years as a child going to Doctor after Doctor and the top dermatologists to try and find some respite.
When I was in my 20s, I decided enough was enough! The steroids weren't working, and like so many of you that I speak to, I knew there had to be another way to return to good health.
This started a long journey of studying natural therapies, aromatherapy, Bach Flowers, meditation and energy healing modalities.
After many years, I finally had my own aha moment when I realised the key ingredients that needed to be in one balm to help with the itch, the inflammation, the skins need for hydration, creating a barrier, as well as providing omegas.
Hence Gilly's Skin Balm was born!
After it worked for my eczema, I knew that I had to share it with others. When others began to see results it was like a balm to my soul after all of those years of frustration and physical discomfort.
People began to report that they were using this for other skin conditions and finding it really helped. As a lip balm, for athletes chaffing, psoriasis, cracked heels, sore and itchy spots, haemorrhoids, nappy rash, chicken pox and more! The testimonials kept flooding in.
The best thing about the balm is it is 100% natural which means that it can be used safely for sensitive baby's skin as well.
Sign Up For Our Free Weekly Newsletter
And Get 10% Off Your First Order As A New Customer!
Leave a comment
Comments will be approved before showing up.