Blueberry Powder - by Jim Maskell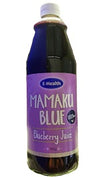 As you may know, I have a bit of a sweet tooth! 
One of my favourite Ephraim products,that is not only incredibly healthy, but also curbs the cravings for sweets is Blueberry Juice.
Blueberries are one of the strongest antioxidants you can have and the flavour is unbeatable.
Here is a great way I like to surprise guests when they arrive....
I ask them if they would like a great pick-me-up drink, and of course the answer is always YES!
I put 60mls of Blueberry Juice in a cup or glass and top-up with warm/hot water.
This makes the most amazing tea, and the benefits of drinking just this alone are incredible. It can:
Help improve digestion

Help with kidney problems

Enhance urinary health

Heart disease risks reduced

Help with eye problems especially age related
I try and keep my bottle of Blueberry Juice hidden in the back of the fridge otherwise it just vanishes as other members of my family spot it there and get stuck in
This Blueberry Juice is 100% pure, no sugar, no additives and spray free. 
Enjoy!
Jim Maskell
Co-Owner of E-Health
Sign Up For Our Free Weekly Newsletter
And Get 10% Off Your First Order As A New Customer!
Leave a comment
Comments will be approved before showing up.